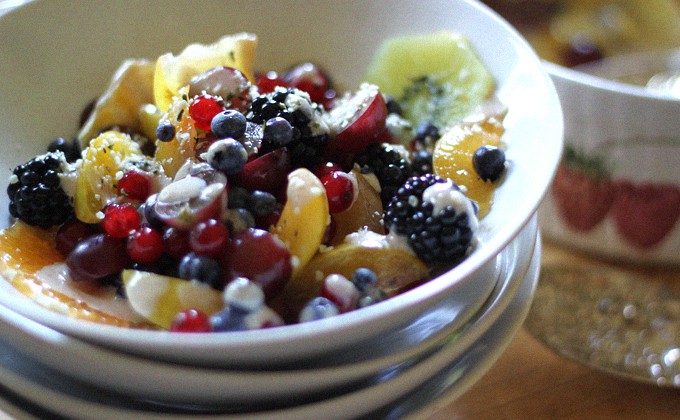 This recipe comes from chef Sarah Britton on www.rawfoodrecipes.com.
Sarah Britton says, "What better way to celebrate summer than with a refreshing bowl of raw rainbow sweetness to share with precious friends and beloved family? No matter how you slice it, nirvana is often found in the place you least expect, and sometimes even on the plate right in front of you." The basis for this recipe is combining fruits with the vibrant colors of each chakra together, so if you don't have access to some of these fruits no worries, just choose whats available to you! Create your very own rainbow chakra bliss salad and enjoy it with love and gratitude in your heart. Your entire vibration will become elevated!
Ingredients
Chakra Salad:
currants – red / root chakra
oranges – orange / sacral chakra
plums – yellow/ solar plexus chakra
kiwi – green / heart chakra
blueberries – blue / throat chakra
blackberries – indigo / third eye chakra
grapes – violet / crown chakra
hemp hearts to garnish (optional)
Enlightened Tahini Sauce: Makes about 1 cup
¼ cup tahini
1 Tbsp. raw honey (or maple syrup)
2 Tbsp. freshly squeezed lemon or orange juice
¼ tsp. cinnamon
pinch dried ground ginger
pinch of sea salt (unless you are using salted tahini)
4-6 Tbsp. water
Instructions
1. Choose fruits representing every colour of the rainbow.
2. Wash and prepare with love and gratitude.
3. Drizzle with tahini sauce and sprinkle with hemp seeds. Share and enjoy.
Enlightened Tahini Sauce:
Directions:
1. Place all ingredients in a jar with a tightly fitting lid and shake well to combine. Add more water to thin if desired. Store leftovers in the fridge for up to a week.