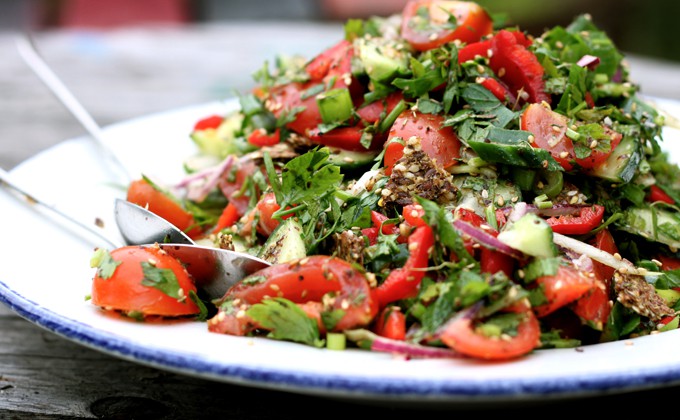 This recipe comes from chef Sarah Britton at www.rawfoodrecipes.com.
This salad takes its inspiration from a well-known Lebanese dish and combines the ultra fresh tastes of cucumber, mint, and parsley with tomato, red and green onion, and red bell pepper. The dressing is a light olive oil and lemon juice fusion with a bit of crushed garlic and raw honey. Then to add a nice crunch and zing the salad is sprinkled with a sesame seed and sumac "za'atar". Sumac is actually an amazing spice that comes from a berry and is fantastic for digestion. It packs a zesty tart taste and is full of anthocyanins, which are antioxidants that can also be found in foods like blueberries, blackberries, grapes, and acai. Before gobbling up your salad add some olives, crumbled flax crackers, or turn it into a filling meal by adding fresh chickpeas or a nut based hummus, avocado slices, etc. This salad absolutely screams freshness and is packed with flavor.
Ingredients
2 medium cucumbers, with skin
3 cups chopped tomatoes (I used a combination of cherry, plum, and grape tomatoes)
2 red bell peppers
1 large red onion
3 green onions
1 cup chopped flat-leaf parsley
¾ cup chopped mint
raw flax crackers, flatbread, or toasted pita
Fattoush Salad Dressing:
¼ cup extra virgin cold-pressed olive oil
¼ cup freshly squeezed lemon juice
zest of 1 lemon (organic, un-waxed if possible!)
1 tsp. raw liquid honey or maple syrup
2 – 4 cloves garlic, minced
a couple pinches of sea salt
a pinch of black pepper
Za'atar
¼ cup sesame seeds (raw or toasted)
¼ cup sumac
2 Tbsp. dried thyme
1 Tbsp. dried oregano
(This is a good "starter amount", but feel free to double, triple, quadruple the recipe if you want more za'atar!)Instructions
Fattoush Salad:
1. Wash, prepare, and chop all veggies into bite-sized pieces. Wash, spin-dry herbs and chop. Place in a large bowl.
2. Pour dressing over salad, stir, and let stand for at least 30 minutes at room temperature to allow the flavours to meld.
3. Right before serving, sprinkle generously with za'atar, crumble raw flax crackers and fold into salad. Enjoy.
Fattoush Salad Dressing:
1. Put all ingredients in a jar with a light-fitting lid and shake.
Za'atar
1. Combine all ingredients in a bowl.2. Funnel into a glass jar and store in a cool, dark place.