Heal your life from the Inside...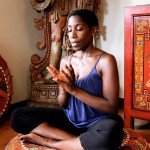 Join me for a powerful meditation and healing of emotional trauma in the body. Get in touch with the feminine aspect of yourself that wants healing and integration!
Register for free now!
Tuesday, November 29th at:
7:00pm Pacific
10:00pm Eastern
4:00am Central European (November 30th)
All of us have both masculine and feminine traits inside of us.  We tend to think of the masculine self as the rational, thinking, linear side; and we tend to think of the feminine self as creative, emotional and intuiting. In Western culture, we are pushed to suppress the feminine, emotional side of ourselves and give more credence to the logical masculine way.  As a result, we may experience a disconnection from our intuition and even our sensuality.  We might even find ourselves thinking our feelings rather than feeling our feelings.
This meditation will help you get in touch with your body and become aware of the emotions that might be lingering below the level of your conscious mind.  After this meditation, you will feel present in your body and feel aware of your true authentic self.  You will also feel supported and protected by the beneficial spirits of the Universe.