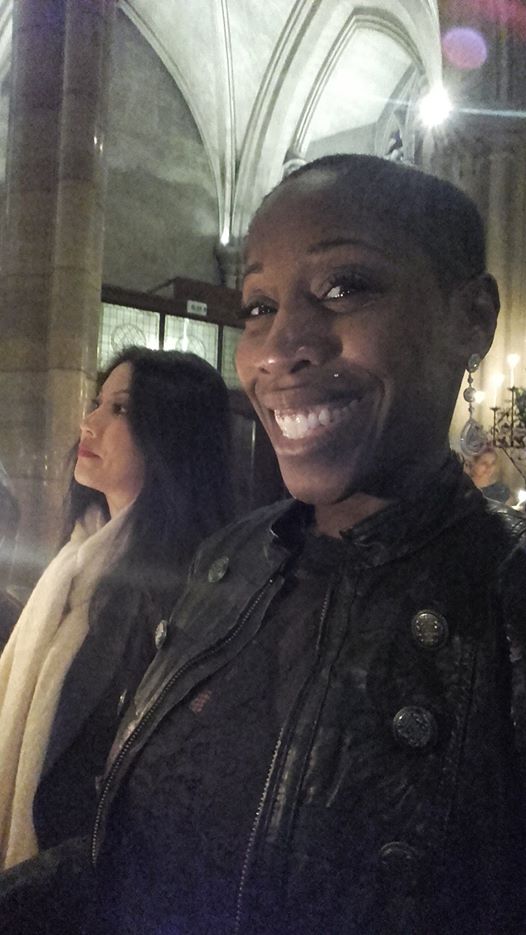 Monica and I at Midnight Mass in the American Cathedral in Paris
We were heading to midnight mass last night after dinner, but we didn't get out of the restaurant until 11:00, which is the time that mass was beginning at Saint Sulpice.
Following our hearts, we scrapped Saint Sulpice and instead crossed the Seine to head to the Church of the Madeleine. As we were walking, we saw a big white tower shining against the dark and velvety sky. We decided to head in that direction and see if we could attend a mass there.
We climbed the mild hill to get to the church and when we went inside, we found that we were in an American Episcopalian church (American Cathedral in Paris!)Totally not what we were expecting! We were looking for French Catholicism and we got American songs and messages in english.
For a moment, I felt a jolt of disappointment because I was really hoping to see how the French did Christmas. But as the words of Silent Night rang through the church and sprung from my own lips, I was flooded with gratitude as the meaning of the words washed over me… "Christ our savior is born! Christ our savior is born!" In those moments at church, I totally KNEW the Spirit of Christmas.
WOW! I was so happy to be exactly where I was!
Hahahaha! I had been so caught up in my Bonjour, Paris retreat and being a tour guide and spiritual empowerment coach that I had not been able to really think about Christmas beyond the things I saw– Christmas trees, lights, shopping. When we got into the church and I was able to be still, my mind let go and my heart opened to allow the beauty of the words, "Jesus, Lord at thy birth." Hehehe! It all made perfect sense. Appreciation of the Light of Jesus coming to Earth and embodying the Christ Consciousness and holding to his beautiful vision of the world and being the beacon of light in the darkness of our shadowy, separated selves– man! My friends know that I do not associate with any particular religion– that I prefer to enjoy all religions and to receive blessing from all of the gods and devas. This Christmas Eve, it felt SO GOOD to be living a life that practices loving unconditionally. It felt so good to acknowledge this important Soul known as Jesus of Nazareth that actually walked in the shoes of humanity and found unconditional love within Himself and shared it with the world around Him. Man. It was awesome!
It became really easy to sing, "Hark the herald angels sing." I was really rejoicing!
Christmas mass at Notre Dame or Saint Sulpice would have been really neat to observe, but on this night, I needed english. I needed enlightenment to come through the Americans in Paris.
Totally proud to be an American.
Merry Christmas to all my friends. Wishing you a day that finds you making new discoveries for yourself about yourself and this precious holiday.