I was out walking yesterday through central Paris. I wanted to simply follow my heart and say yes to all the feelings that arose. I used my eyes, my nose, my skin and my ears to assist my heart, and I found myself exploring magical passageways, basking in the warm autumn sun, and strolling beneath palatial colonnades.
I also did some shopping.
I find all of my experiences here heightened by the sensuality. Paris brings all of your senses into play as you live in the city. There is the crispness of the autumnal air, the sound of the city and the French language. There are beautiful buildings, monuments, and art work displayed– a genuine feast for your eyes. And always, there is the smell of pastry, cigarettes, good food, wine, coffee and perfume. Parisian women, from the frumpy to the fabulous always smell DIVINE. Perfume here (like fashion, like cuisine, like LIFE) is an art form.
I had been wanting to invest in a fragrance that would be captivating and uniquely mine. Years ago, I was obsessed by Annick Goutal, collecting her scents with gusto. But the thought of returning to her boutiques felt disappointing and common. The thought of going into Les Galeries Lafayette for my special scent was abhorrent– too plebeian and definitely not a match for the woman I have become nor a match to the relationship that I have nurtured with this city. While the vast beauty of the Haussman branch of Les Galeries Lafayette is breathtaking, the small boutiques of Paris offer a unique experience and an opportunity for intimacy, which I cherish. So I allowed the desire for MY special fragrance to percolate gently in my heart by breathing in the beauty of the world around me, knowing that I would be lead to exactly the right place at exactly the right time.
As I strolled along yesterday, following my heart and taking in sights and sounds, I was lead down a mysterious flight of stairs to a long colonnade. The row of tall columns felt magical and was absolutely calling to me and so I entered its shadowy coolness and let the elegance of the Galerie du Palais-Royal embrace me.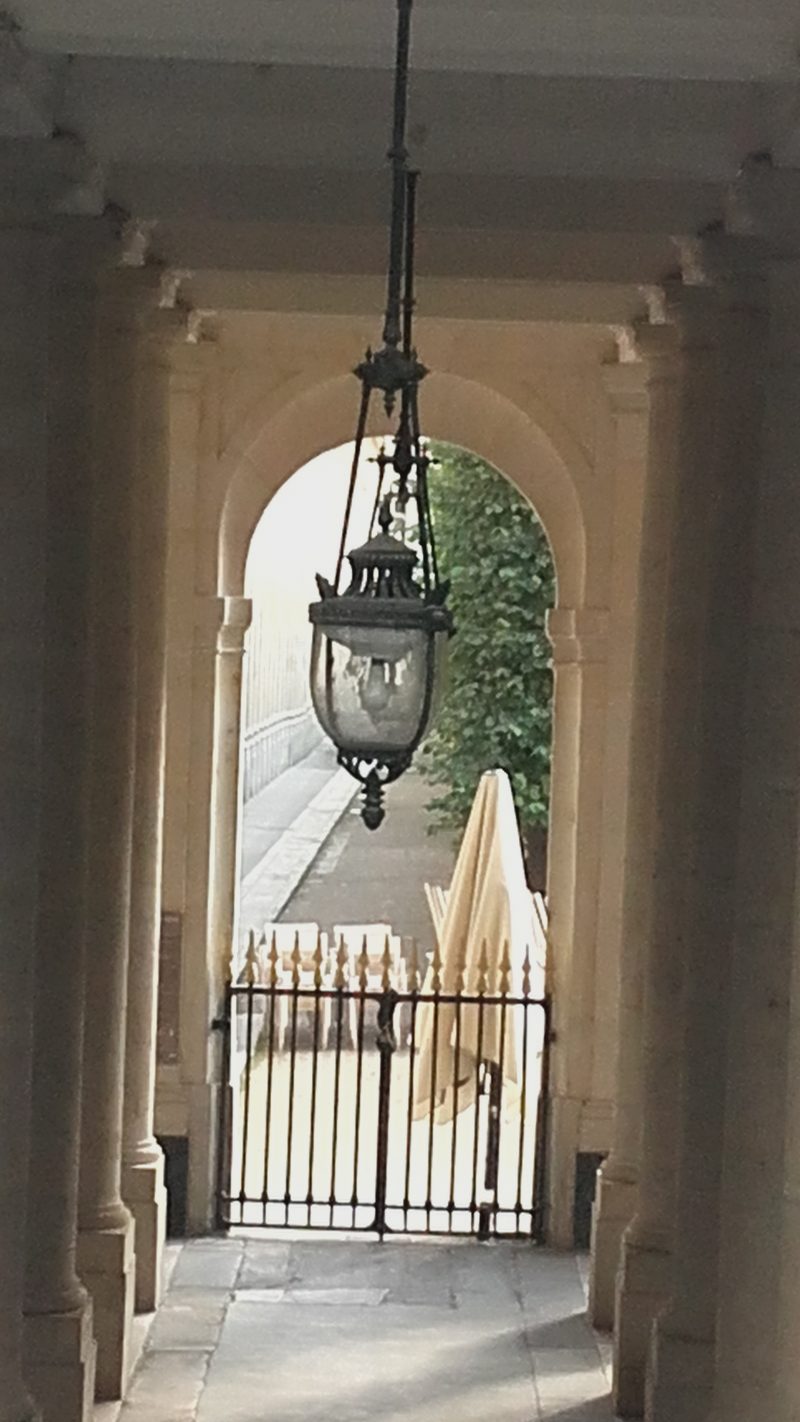 I stood taking in the place, and my eye caught a charming little fragrance boutique.  It had an air of fancy, but was calm, quiet and inviting.

I ventured in and was greeted by a lovely sales woman who took the time to introduce me to the line, explaining the different essences and the experiences they could inspire. She explained that this was their only location and that they were a niche line catering to women who treasured the rose. When I entered, I was not set on making a purchase, but after sampling six of the fragrances, I knew that I had found mine: Ballerina No. 3. It was GORGEOUS with the scent of spice, rose and fruit. Dark and mysterious… just like me.
I walked out of the boutique with my treasure, smelling wild and provocative; and before I went to bed, I sprayed on just a little more to enhance my sleep. I awoke refreshed, feeling sexy and smelling like the Goddess.
If you have not yet done so, put perfume shopping in Paris on your bucket list.  And join me for Bonjour, Paris! this winter!