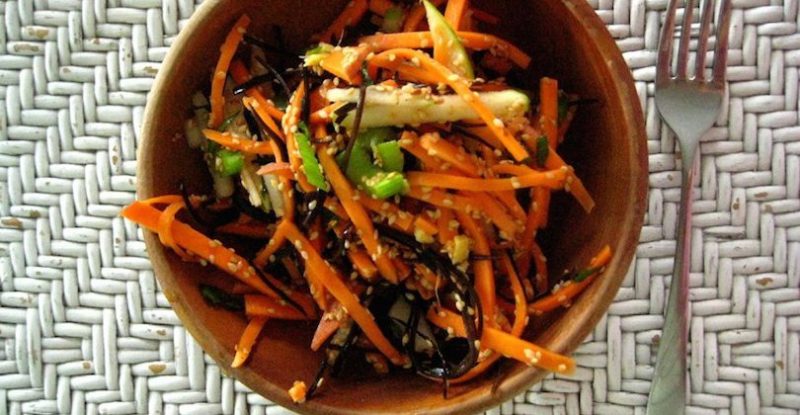 This recipe comes from chef Sarah Britton on www.rawfoodrecipes.com.
A grounding, filling raw sweet potato salad with the inclusion of shredded daikon radish, sliced celery, tart apple, ginger, toasted sesame seeds, soaked mineral rich arame seaweed and a gentle dressing of lemon, agave, tamari, and cold pressed sesame oil. Delightful as a side salad with a steamed grain like quinoa or brown rice, or served with miso soup on a rainy day. If agave nectar isn't your thing, try yacon or coconut nectar in this dressing for a malty earthy sweetness that compliments the root vegetables very well!
Ingredients
1/4 cup arame seaweed
1/3 cup freshly squeezed lemon juice
2 cups sweet potato, cut into matchsticks
1 cup shredded daikon radish (optional)
1 cup tart apple, cut into matchsticks
1/2 cup sliced celery
1-2 Tbsp grated ginger
1/4 cup toasted sesame seeds
1-2 Tbsp agave nectar
3 Tbsp. Tamari
3 Tbsp. extra virgin olive oil or cold pressed sesame oil
Instructions
1. Rinse and soak arame in 3/4 cup filtered water for 15-20 until soft
2. Squeeze lemon juice
3. Shred or grate the sweet potato, daikon and apple into a large salad bowl
4. Slice celery in thin, diagonal strips and add
5. Grate ginger
6. Toast sesame seeds in a dry skillet until they begin to pop – careful, the burn quickly!
7. Blend agave, tamari, oil and ginger
8. Toss all ingredients together and enjoy!