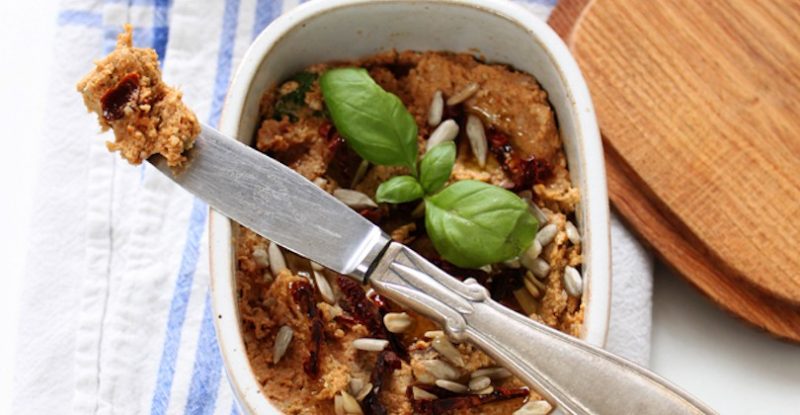 This recipe comes from chef Sarah Britton on www.rawfoodrecipes.com.
Try this raw tomato basil sunflower seed paté stuffed inside of cucumber boats, as a filling in sandwiches and wraps, or scooped up with raw crackers or sliced veggies. Sunflower seeds make a great base for a paté because they are very cost effective and loaded with healthy nutrients, most notably vitamin E. Vitamin E keeps our cell membranes protected, fights free radical damage, helps heal soft tissue, and aids in keeping our skin and hair healthy and radiant. Because the sunflower seeds in this recipe are soaked prior to processing, their enzymes and nutrients are even more bioavailable and the pate is lighter, has a higher water content, and is much easier on the digestive system.
Ingredients
1 ½ cup shelled sunflower seeds
10-12 sundried tomatoes
2 Tbsp. extra virgin olive oil
juice + zest of 1 lemon
1 clove garlic, minced
½ cup fresh basil, chopped
1 tsp. honey or agave nectar
1 tsp. tamari
sea salt + pepper to taste
Instructions
1. Place sunflower seeds in a bowl and cover with water. Soak for at least 4 hours if possible, overnight is best. Drain and rinse.
2. Pour boiling water over sundried tomatoes and soak for 20 minutes or so, until they have softened. Drain, reserving liquid. Roughly chop tomatoes and set aside.
3. Place all ingredients in a food processor and blend until desired consistency is reached. For a creamier texture, add tomato soaking liquid one tablespoon at a time (I used about 4 or 5 tablespoons of liquid in total).
4. Serve in a crisp lettuce leaf or straight from the bowl and enjoy! Store in an airtight container in the fridge for up to 7 days.