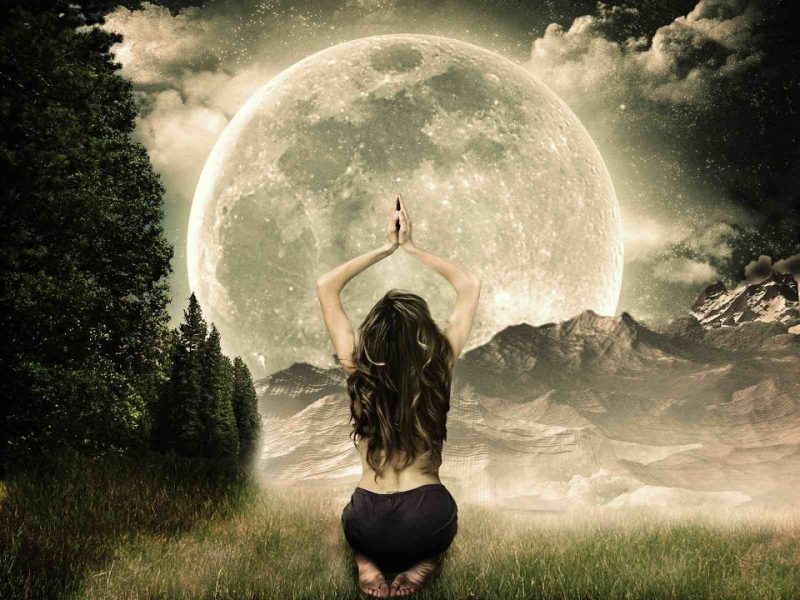 Listen to the Full Moon in Aquarius podcast on Soundcloud and read the blog or watch the video below…

---
About the Full Moon in Aquarius
The Full Moon rises in Aquarius on Monday, August 7th at 20:10 CEST.  This is a partial lunar eclipse, which means that the Sun and Earth are positioned so that the Earth is casting its shadow on the Moon. All eclipses are powerful astrological events that have far-reaching effects for our relationships, so be sure to give this particular Moon phase special attention because it is emphasizing the most important relationship of all:  Your relationship to your Soul.   This is a special edition of my Moon phase series that includes an interview with Sacred Seduction® author, Kitty Cavalier, so be prepared to receive some really deep inspiration this Full Moon. There is Full Moon in Aquarius Ritual (which includes a guided meditation) that follows below. I recommend you do the ritual at least once this Moon phase, preferably on Monday. ALSO, please mark your calendar for this Sunday, August 6th at 7:30pm CEST (Zagreb, Croatia.) Check the time for your time zone.  Every Full Moon, I do free LIVE channeling here on my website.  You bring your questions and the things to which you want insight, and I tune into the Divine Matrix and connect you and your Spirit Guides, delivering messages using my trusty intuition, clairvoyance, Tarot and astrology. If it sounds good to you then sign-up and join me for this fun night of channeling.
This is a powerful Full Moon, my friend, as the Universe is opening the door wide open for our transformation.  We're being called to let go and let Goddess.  We've been living in our heads and allowing the pain body to determine how we act, how we love, how we give and how we receive.  We've been guided by old wounds that were never properly healed.  They just got internalized and pushed down.  Those problems never really went away, but rather got relegated to the back of our minds where they remain hidden, but still active and exerting tremendous influence over our lives.  As a result, we're less creative, less surrendering, less open-hearted, less trusting than we could be.  Imagine what you would be if you knew your worth!  Imagine what you would do if you KNEW without the shadow of doubt, that you were fully connected to Heaven and Earth and that God/Goddess was fully working through you bringing everything you needed exactly when you needed it.  Your life would be very different as you sat back and allowed EASE to become your guiding principle.  You would relax into your meditation, relax into your work, relax into your run, relax into your weight loss, relax into your parenting, relax into your intimacy.  You would allow yourself to go unprotected by the limiting defenses your ego concocts because you would not need them.
Let Go and Let Goddess with the Full Moon in Aquarius
It might be hard to believe that the Universe is calling us to relax and let go, but It is.  So what does this look like?  Does this mean that you have to give up your job, your house, your ambition?  Nope!  And thank God/Goddess because it would be a shame for the Universe to trick you into surrendering and then pull the rug out from under you.  But it does mean that you have to let go of your attachment to the material world, your goals and their outcomes.  This does NOT mean you can't have dreams, things, goals and ambitions.  But it's your attachment to them that makes you weak, and it's the attachment that I want to encourage you to release.  Keep the dream.  Release the attachment to it.
Attachment happens in the mind.  And the mind is like a tenacious pit bull that locks its jaws on its target and will not let go until the strong master gives the command.  The pit bull of the mind, because it is holding on so tight, restricts the flow of Spirit and it essentially cuts us off from all the multitudes of possibility.  This strong master that wields infinite power over the pit bull of our mind is our Buddha nature.  The Buddha nature is your pure Soul as it is connected to Heaven and Earth.  It's peaceful, unconditionally loving and unperturbed by the outcome of things.  It invests its energy and focus at its heart center and it KNOWS its connection and is therefore safe in its being.  This does NOT mean you have to be a bling-less monk. Thank Goddess because I ♥ bling.  But it does mean you have to nurture a relationship with your Inner Monk (aka your Soul) and let your bling follow from that.  It means you have to trust the Source of the bling more than you trust the bling.  I ♥ bling, but I am fully invested in God/Goddess/Source of all. The problem is that we tend to put the bling first and we have more of a relationship with bling than we do with our Soul.  If you sense that you have in you a tenacious pit bull that has unhealthily attached itself to an idea, then soften your jaws and soften your mind.
And you may not be aware of this, but your inner pit bull can be indicated in your astrological birth chart.  If you haven't had one made yet, I am running a special for 30% off.  My report is 30 pages of YOU.  All the planets and all the aspects described in easy to understand, but profoundly insightful descriptions.  You can order your chart online, (the discounted price is $20) I'll prepare it and email it to you within 24 hours.  You will be SO happy you did!  FULL of information.  Know thyself… It really is the perfect enhancement to any self-love and self-help practice.
The Full Moon in Aquarius brings Soul-utions
The Full Moon in Aquarius is an invitation to come home to You and to let the outside world respond to that. The sign of Aquarius is very much about being their Authentic and unique selves.  Well, your Authentic and unique earthly experience comes from the Soul and any change you want to manifest on earth begins with the Soul.  We tend to do things the other way around– we focus on what we want in the outside world and we make plans based on what logic dictates.  That's fine when your logic is fully connected to your Soul.  But unfortunately, for many of us, our logic is connected to the pain body.  "I failed at that before, so I'm not going to try it again."  Yikes!  That makes sense in a world where pain is your greatest teacher.  But that's not the paradigm under which we are operating now.  Pleasure, Peace, Trust and Unconditonal Love are our Spirit Guides now.  The world has changed.  You do not reach your Soul by putting all your attention on getting a better job.  You focus on your Soul and do work that comes from your heart and the better job comes naturally.  Same thing with a great intimate relationship.  You cultivate a relationship with yourself– one that is unconditionally loving, trusting and passionate… and the beautiful man who is ready to make you his woman comes walking through the door.  Need more cash?  You have an ATM machine in the center of you belly.  It's called your Soul and it has a direct connection to Papa Cash in Heaven and Mama Gold on Earth.  How do you tune into your Soul?  BREATHE, dammit.  Get intentional and recognize that your very breath is Life Force Energy.  APPRECIATION, dammit.  Look around and see everything as a reflection of Unconditional Love.  STILLNESS, dammit!  Get quiet.  Be still.  Turn off the distractions and meditate.  Dedicate at least 20 minutes in the morning to establishing a connection with Heaven, Earth and your Soul. At the end of your day, give yourself more time to contemplate and reflect.  There are several other ways to nurture your connection to your Soul:
Definitely watch or listen to my interview with Sacred Seduction® author Kitty Cavalier.  You can watch the video or podcast.  I'll talk more about this in a second…
Feed your heart nourishing words of wisdom from writers and teachers that inspire you.  If you're getting inspired by this article, then sign up to get my Moon Phase reports delivered to your inbox.  In the morning on the way to work, listen to an inspirational audiobook.  Watch some inspiring Youtube videos before you go to bed at night.
Do Shadow Work to discover the blockages to your Soul; and nurture your Inner Child.
Practice self-love, radical self-compassion and radical self-acceptance.  Forgive yourself.
Take pauses in the middle of the day and tune into your feeling nature, which is one way that your heart and Soul communicate with you.
Hang-out with people who are empowered, uplifted and creative.
Take lots of walks in nature.  The Goddess lives in the trees, the bees, the breeze and the seas.  Get out there and soak her up.
Express your creativity.  Paint, draw, color in a coloring book.  Join a choir or take private voice lessons.  Singing helps you connect to your feelings with words and music.
Dress yourself up in colors that inspire you and make you feel awesome.  Do your hair and make-up with the intention to express your truth.
The Full Moon in Aquarius Opens us to Pleasure
All of the things that I've talked about are calling in more pleasure to your life and will open you up to a new way of experiencing the world.   Two weeks ago, at the first New Moon in Leo, (there will be another new Moon in Leo in two more weeks, by the way) I suggested that you take Pleasure as your Spirit Guide and engage with it to learn how you can bring more pleasure, sensuality, sex and creativity into your life.  Ultimately, we are going to find that the Universe is giving us the opportunity to increase our confidence to author our own lives– meaning that instead of giving our power away and looking for validation outside ourselves, we instead go inside to build a relationship with our Soul.  The confidence we find within gets automatically projected into the world and we find the texture of our life changing, becoming more fluid, expansive, abundant and easy.  So, now the Full Moon in Aquarius is calling-in the power of the Soul.  A deep connection to your Soul means more confidence, pleasure and Authority.  Who doesn't want to live more confidently, more authoritatively, and above all, with more pleasure? I've been following the wisdom of Sacred Seduction® author, Kitty Cavalier, to get grounded in my body and to find deeper meaning in the present moment. It has been a life changing experience because her work is Soul Work.  Have a listen to my interview with her to learn about how to bring more pleasure into your life and maximize the opportunity of the Full Moon in Aquarius.
My Full Moon in Aquarius Interview with Kitty Cavalier
Kitty Cavalier is a coach and teacher who helps women find intimacy with life. Her work is called Sacred Seduction®, but it's not about seducing men for sex and power.  Sacred Seduction® is about developing an intimate relationship with Life and living from your Soul. The Full Moon Eclipse in Aquarius, is urging us to become the authors of our own lives and to tell our authentic stories.  My conversation with Kitty explores the relationship we all have with pleasure and how it can initiate us into our own personal Authority.
This conversation was EXCELLENT and I KNOW you are going to ♥ it.  Do some good inner work and complete the Full Moon in Aquarius ritual at least once during the phase. The ritual follows just below the video of Kitty and me.  The effects of the Full Moon are usually most significantly experienced three days before the Moon rises and then for one week after.  And remember to join me on Sunday for my free Full Moon Channeling Event!
Download the first chapter of Sacred Seduction®
Learn about Kitty's upcoming retreat, The Mermaid and the Muse
Sign-up to get my Astrology and Moon Phase (Funny, Sexy Astrology Blog and Podcast) delivered to your inbox.
Watch the video and leave your comments in the comment box below…

Here's your ritual for the Full Moon in Aquarius
1. I recommend doing this ritual on Monday night or early before sunrise. Monday is Moon's day and she loves the coolness of night. If you can see the Full Moon as do your ritual, even better.  You can also wear all white clothing and silver jewelry.
2. Set the mood. Turn off your computer and phone. Put on some uplifting music that invokes good feelings in you. Make it positive and inspiring.
3. Light some incense or put some essential oils in some water in a burner. Get yourself a pretty glass and fill it water. Hold the glass in your hands and say a prayer of trust, love and optimism. Bring the water to your ritual space and sip on it as you do your ritual.
4. Get a white candle, but before you light it, say a word of thanks and bless the light that will come forth. Light the candle.
5. Journal and pen (or laptop or tablet or phone… whatever you're gonna use to write. It could be a napkin and a crayon. Use what you got.) Put this near you because you're going to need it in a few minutes.
6. Claim you spot at the authority table.  Seriously.  This is an important Full Moon.  Be intentional as you sit down.  Get comfortable, but maintain good posture. You can sit at a desk or on the floor or on your bed. Just get into a position where you can be focused and resolute.
7. Take a few deep breaths and tune into your entire body. Allow yourself to release any tension you may be holding. Put your dominant hand over your heart and see if you can notice the beat or feel heat radiating from your chest. Feel your body and settle into peaceful contemplation. You can lower your hands whenever you feel like doing so.
8. From your heart space, call upon the Goddess, the Divine Mother. Feel her light coming from within you. Feel the light filling you up, illuminating you from inside. Sit in peace for several minutes and just breathe the light of the Moon. Inhale. Exhale. If you are aware of any negative thoughts or feelings, surrender them, with appreciation and unconditional love. Let go of your fears, doubts, negative beliefs, worries and concerns. Breathe gently in this place of light and let go.
9. As you sit in oneness with the Moon, say a prayer of appreciation for this moment and all things that inspire you. Spend the next few minutes allowing yourself to feel your appreciation. Remember to use your breath to keep you connected to your body.
10.  Do this Meditation to Heal the Feminine…
11.  After you bring yourself back into awareness of your space, just sit quietly and reflect on what you have observed in yourself. Talk to your Spirit Guides or God/Goddess and ask for assistance in releasing anything that wants to be released, and integrating anything that serves your Highest Good.
12. Say, "Thank you," for all the love that has been bestowed upon you. Know that these words are appreciative, not grateful. What is the difference, you might wonder? Appreciation puts you on the same level of abundance. It is a mirror reflection of abundance. Gratitude is the feeling of having not had something and then getting it. It is about lacking something and then coming into having it. Appreciation is an acknowledgement that you were never lacking. It is a knowing that you have always been a child of God/Goddess—even when you have forgotten.
13. Shadow Work. Do some specific Shadow Work exercises to help you process what you experienced. If you don't know what Shadow Work is, don't worry about it. Just write down your fears, doubts and resistances and ask your spirit guides to help you heal. That's good enough. I teach Shadow Work, so you can always arrange a few sessions so that you can learn it truly.
14. Your ritual for this Full Moon is now complete.
To get my Astrology and Moon Phase updates delivered right to your email, sign up below. If you'd like to occasionally receive a postcard from wherever I am traveling, enter your mailing address, too!