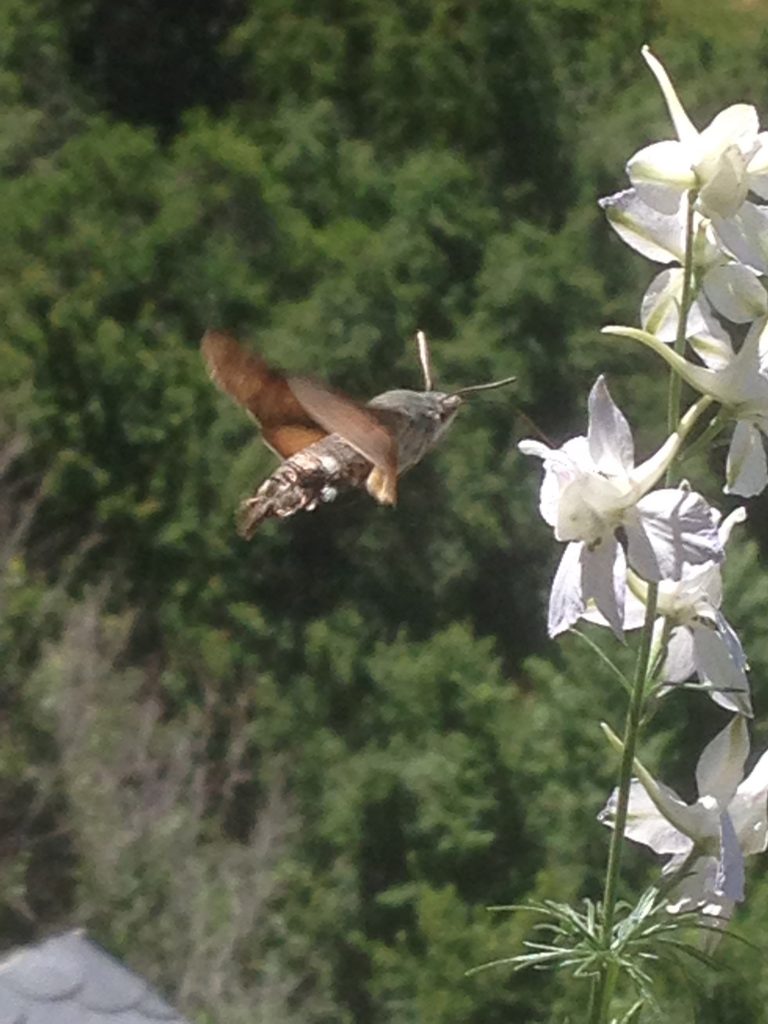 When I'm out on my long walks, I find myself always surrounded by beautiful flowers.  Farrera in the summer is bursting with buds– lavender, iris, snap dragons, ranunculus, poppies, daisies, oregano, and countless others that I can't name, but that lend splendid color and joy to the countryside.  These flowers have been extremely healing to my spirit and have helped me remember how to simply be while the universe orders itself around me.  Color therapy has taken on a new meaning as I am ministered to by brilliant purples, pinks, blues, yellows, oranges, whites and of course, GREEN.  My heart bursts from the abundance of green that shouts "unconditional love" from every direction.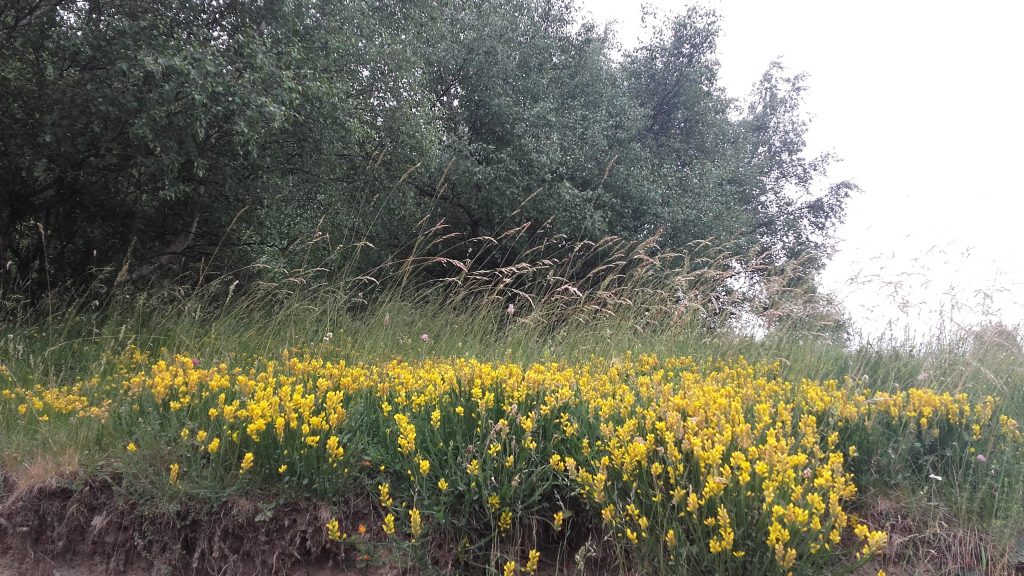 On one of my walks, I noticed what I thought was the world's tiniest hummingbird hovering peacefully around a cluster of flowers.  When I stopped to inspect, it darted away and I was left with a wonderful feeling.  I had just seen something precious and special.  I could feel it's tiny little wings beating in my heart and I did what I have learned to do:  I quieted my mind and held the memory of the little being in my heart while I affirmed to the Universe that I desire to see it again and to learn about it.
A few days later, I was in my room and my attention was captured by movement around my balcony.  I went outside to find the little one feeding from the flowers on my balcony!  How wonderful!  I took my iPhone and was able to capture a few shots of him in action.  Take a look at some of the photos…
I inquired about them at the center and no one knew about what I was talking, so when I was able to snag some photos, I showed them around and none of the local residents had seen them before! How funny is it that we can sometimes take things for granted when we live in a place! How many treasures have I overlooked in Los Angeles, simply because I didn't have a mind to see? Anyway, a botanist who was here at the center to learn some new sketching techniques knew exactly what the little guy was when I showed him the photos. We were all impressed by the photos I got with my iPhone because those wings move VERY quickly!
It turns out that it's not an actual hummingbird, but a Hummingbird Hawk Moth.  The Hummingbird Hawk Moth can be found in the warmer northern climates between Portugal and Japan. They have long tongues that can dip into flowers with a deep and narrow pot like honeysuckle. This gives them a little less competition from the other critters who can't get so deep into the calyx.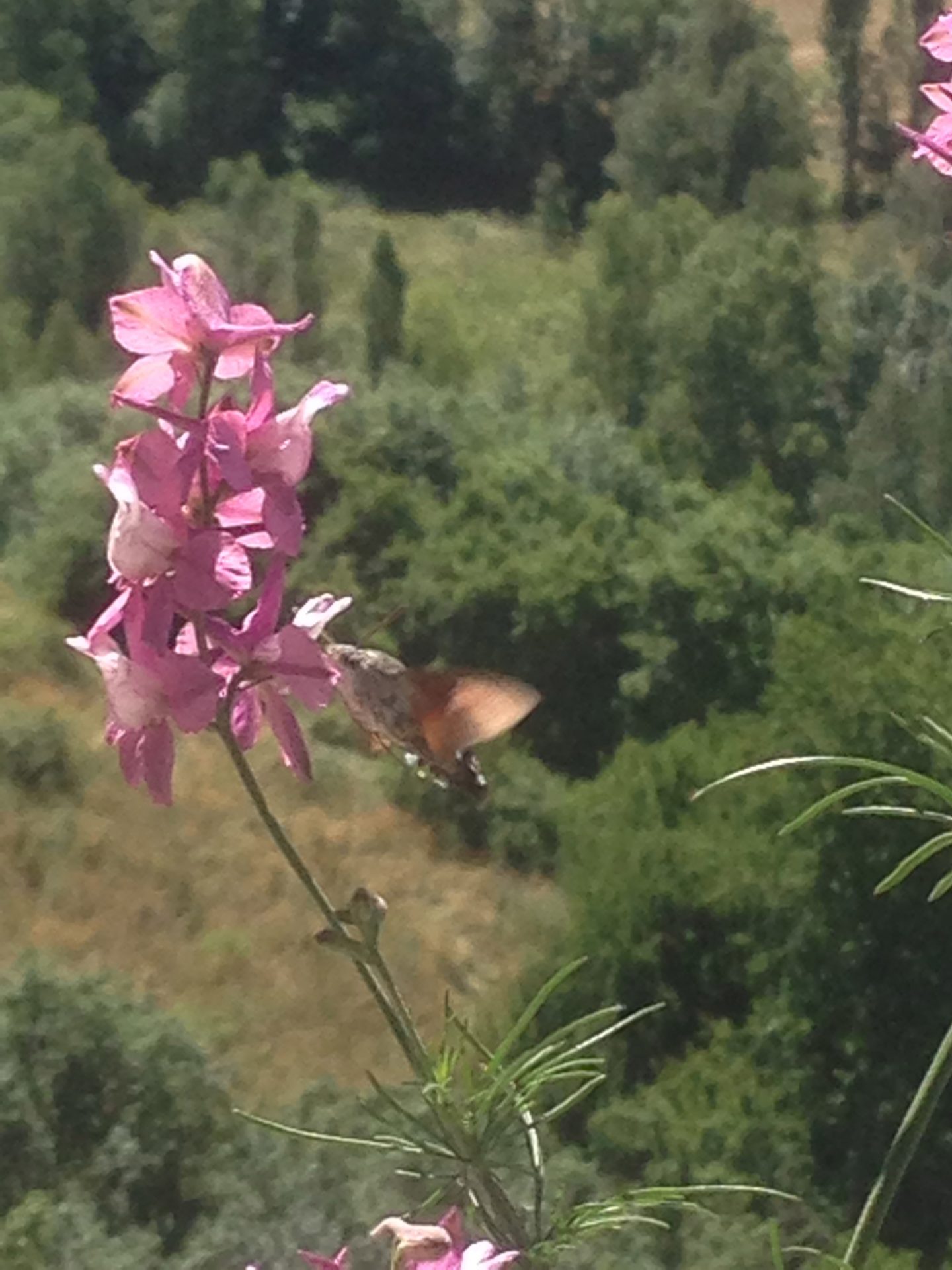 They are supposed to be a fortunate omen and I have to say that they seem very precious since none of the locals have paid them much attention and they have been totally flocking to me, getting my attention– even appearing daily on my balcony to say hello… or to simply feed! They certainly feel lucky. I have felt like my life has been especially blessed by God here in Farrera.
Here is a post that I made on Facebook the other day after a particularly excellent day spent writing, contemplating my navel and walking down the road,
Today was a day where I could see God everywhere. I could see him in the trees and in the lone butterfly on the flower. I could taste God in the wild strawberries and marvel at his abundance in the cherry tree. I could smell God in the herbs that were growing at the base of the trees and I could smell him in the freshly turned soil. I could hear God's voice in the wind that shook the aspens and I could feel him crawling gently on my calves in the form of little flies.

God is telling my story through this land. He is showing me how completely dialed in I am and how connected and how safe.
And I believe him. I believe the stories he tells me through the trees and landscapes. I believe his song as told by the birds. And I know God within as true as I spend time with the people here. My trust in humanity is coming alive here. My faith in myself is renewing. My belief in love and partnership is alive.

I asked for God to be in constant dialogue with me and he responded with an earful.