I have been dealing with an interesting mix of feelings.  Lots of elation, support, power, strength and creativity.  Oh, my gosh, soooo much creativity!  So much optimism, vision and contact with my Spirit Guides.  All of this beautiful life-affirming energy is mixed with an intense yearning for roots.
When I was a kid, between birth and age 13, I had moved over 19 times.  At age 10, we moved to Palos Verdes and even on The Hill, I can remember five distinct homes.  When I was 13 years old, we finally settled in a house where we stayed until I moved out on my own to Hollywood at age 20.  The thing is, although I had had a taste of stability, I did not get rooted in Palos Verdes.  I did not feel a sense of community in school or with my peers.  When my high school friends were bonding and enjoying the rewards of friendship, I was mostly alone and working in the family business.  So I didn't feel any sense of connection, loyalty or ties to any of the people in Palos Verdes, although, I did feel very connected to the landscape.  I loved the Spanish-style houses that dotted the rugged terrain, the rolling hills, the stumpy shrubs and the blue Pacific that made Palos Verdes an affluent peninsula.
After leaving home, I was a natural nomad.  I would take one year leases and leave after 9 months.  I wasn't a bad tenant because I had a natural ability to find renters for the apartments so that the owners were never without tenants, and they actually all seemed pretty happy about that.  I rarely developed meaningful relationships with my neighbors. It like my natural thing to wander untethered.
At the age of 46, I am still untethered, and while I am very comfortable traveling from resort to apartment to homestay to house to hotel, about a year ago, I felt the urge to settle down.  I followed the internal prompting and found myself in a lovely house share in a community that I enjoyed.  But when I looked at the truth of how I was living, I realized that it was not where I wanted to be.  The people were lovely, the town was lovely, and it was not my home.  Throughout all of my life, there was only one place where I ever felt like I was 'at home.'  That was Paris.
I went to Paris for the first time when I was 15.  It was June of 1985 and my school was offering a three week trip to Europe for students.  I wanted desperately to go, and my parents were happy to send me.  They wanted me to have exposure and, without any reservations, they sent me on the trip with my cousin as a traveling companion.  Surprisingly, no one from my high school wanted to go on this trip.  Maybe, though, that should not be surprising, because, like I said, I never felt a connection to my peers.  Palos Verdes was an insulted world, sheltered from many of the events of Los Angeles.  (I remember that all of Los Angeles was on lock-down during the L.A. Riots of 1992, and there was a curfew all over the city– until you came to P.V.  In P.V., the perimeter had a strong police presence and the residents were able to move about undisturbed.)  I was bitten by the European travel bug very early on and I was always talking about Europe and what it would be like to visit there.  As a little kid, I would say, "I want to go to London, Paris," as if London was a city within Paris.  My whole world perception was influenced by movies from the 1940s and the European jazz scene.  My granddad had been stationed all over Europe during the second world war and my grandmother, my mother and her sister and brother lived there for at least 10 years.  The black and white photos from that time were so glamorous.  Cigarettes, wine, European cars, European fashion and my brown-skinned family looking so sophisticated and smart.
On my first journey overseas, I had so much fun dancing at the Hippodrome in London, visiting Picadilly, and trying to decipher the English accents.  I could not understand a word of what was being said to me!   In Italy, the boys were so flirtatious and charming and playful and the girls warm and friendly.  The Italian architecture really grabbed me.  I was having a wonderful time being guided through Europe.  I was excited about going to Paris.  I expected big time fun.  I got off the tour bus and the moment I put my sneakered foot on the ground, my vision blurred, I swooned, and a wave passed through me which said, "I am home."  It was the first time I had ever experienced anything so raw, clear, loud and TRUE.  And I carried that feeling of "Home" with me into the city.  I had expected to fall in love with Paris and with a boy.  I expected magic and joy, but nothing like that happened on that first trip.  What I experienced was stuffy people with long, somber faces, dog shit, and shy-ass boys!  I was totally underwhelmed by Paris' grayness and its smugness.  My 15 year old self was much more excited by the flirtatious boys of London and Rome; I was totally delighted by the sweets of Italy, and even the pristine countryside of Germany and Austria.  Paris and the rest of France left me bored and unaffected.  In fact, I couldn't wait to leave.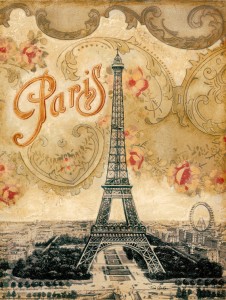 Interestingly, however, when I got home and shared my adventures with my family and friends, all I could talk about was Paris.  Having a coffee in a cafe, the fashion, the French language, the smoking, the Eiffel Tower.  I remember saying with the exuberance and high-drama that only a 15 year old American girl can bring, "I'm going to marry a Swiss man, have an Italian farmhouse and live in Paris!"  It was as if my subconscious mind had made a connection that my consciousness only gleaned from a distance.  It was a stark contrast to the superficial connections I had made in other places like London and Italy.  To my 15 year old American ego, I wanted play, fun, and excitement with boys.  To my much more old, wise and Source-connected self, I wanted the lifestyle that Paris offers:  Art, sophistication, and the dry irony that underlies beauty.  My Soul-Self knew that Paris was Home.
In the following years, I had visited Paris for one or two short stays, never more than a day to pass through en route to somewhere with my Swiss (now ex) husband, who, by the way, hated Paris. I lived my life dreaming about living in Paris, but not taking any action on it, until one day, I had found a brochure to run the 2002 Paris Marathon.  I had never run before, but I had found the flyer six months before the Marathon start and I thought that I would join a local running group and train.  I had a few friends that said they would do it all with me, but in the end, I was the only one who had registered and purchased a plane ticket.
In the coming months, I had not trained for the marathon.  In fact, I had gained 30 pounds and was now officially a hefty 160 pounds and very unhappily living with my long-term boyfriend.  I was too depressed and weighed down by massage school, my full-time job and keeping up with the antics of my emotional wreck of a relationship to actually train for the marathon.  I went to into the Paris Marathon in 2002 thinking that I would simply walk the marathon route like they do here in Los Angeles.  I figured that I would walk until I was too tired or too bored and then I would simply stop and go do something else.  I didn't care about the marathon.  It was not important to me.  The exciting thing was Paris.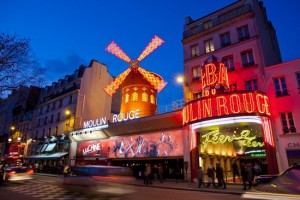 I was REALLY apprehensive about traveling alone.  I had never traveled absolutely alone before, and although I was not afraid, I had the nervous jitters.  Surprisingly, I found that making my way to Paris and through Paris was actually very easy.  I had a knack for falling into step with the surroundings and all the positive attention that I had garnered as beautiful, young American was endearing.  I had started taking French language classes in my early college days (which was how I met my now-ex-husband.  He was my French tutor, by the way.  Talk about sexy.  Oui, oui.  Oooh-la-la.) and I had started taking some language classes at my local community college when I registered for the marathon.  I was enjoying speaking my broken French and wandering the streets of Paris.  I was, however, very aware of my alone-ness there.  It's not like there are only couples in Paris, not at all.  But Paris is a wildly romantic city and it makes you want to experience it with someone dear.  The trees whisper, the rain falls, the sky sings, and even the buildings hum.  There are beautiful shop windows and murmuring of voices.  The smell of bread baking, and the aroma of rotisserie chicken, duck and lamb make your mouth water.  The sunlight sparkles on wine glasses, as well as, the crystal earrings of the beautiful young women.  Street musicians serenade the setting sun as it sets beyond the Pont des Arts.  This is big time sensuality.  I was alone in Paris in 2002, and walking in Pigalle.  You know Pigalle?  It's the neighborhood where the Moulin Rouge is located.  It's loud and boisterous.  Lively.  And I was walking there feeling VERY alone.  A man, had just commented as I walked by, "Charmante," which means, charming.  I paused and my alone-ness made a splendid shift to intentional solitude.  I was not lonely in Paris.  I was surrounded by people to whom I felt cosmically connected in an environment in which I felt I belonged.  I looked up at the neon lights around Pigalle and I felt at Home.  I then DECIDED that I would move there.  It was that simple.  I had decided. In that moment, I had aligned with what was always with me, always calling me.  I decided.  And eight months later, I was there.  Living.  For real.
I stayed in Paris for two whole years and then my obligations called me back to the US.  My life path needed me to walk some more in Los Angeles, and so I did.
I thought that my living in Paris days were over, that I would be moving into new landscapes.  I've explored Asia, the UK, and now Spain.  My heart strings, though, are playing L'accordeoniste and I am drifting Home, being carried closer to it (Farerra is very close to the French border, lying just west of Andorra) and further from it (Cambodia is way the fuck away) in a geographical sense; yet anchored to it very much in the Soul sense (I have decided, and I know.)
I am curious about the roots, which is how I started this missive.  Will I actually lay down roots in Paris?
Actually, I kind of think that this has already been done.  I just now realized that I was actually ever untethered.  I think that it is more like the return of the prodigal son.  I went out and lived my life and now I'm going home.  Am I willing to settle in Paris?  Yes.  That answer comes very easily, without a glimmer of reservation.  I am doubtless, guileless and limitless.  And I am ready.  Excited.  My meditation sees my heart reaching out to Paris, these lovely golden tendrils of light.  It is infusing all of the buildings, the ground and reaching deeply beyond even the catacombs– reaching through and below the sewers into the packed earth.  My heart is sending out its golden threads through all the layers of earth right into the fiery liquid molten iron heart of Gaia– that part of Mother Earth that shines up on the part of the world that I call Home.
By the way, the Paris Marathon of 2002 deserves its own blog post, so I'll be working on that.  It's funny as hell and full of triumph.  In the meantime, sing along with Madam Edith Piaf if you know the words.  And if you don't they're right below the video. And when you come and visit me in Paris, we will sing them together in drunken karaoke.  Yes, we will.
[youtube]https://www.youtube.com/watch?v=6-CA8jp6yoY[/youtube]
La fille de joie est belle
Au coin de la rue là-bas
Elle a une clientèle
Qui lui remplit son bas
Quand son boulot s'achève
Elle s'en va à son tour
Chercher un peu de rêve
Dans un bal du faubourg
Son homme est un artiste
C'est un drôle de petit gars
Un accordéoniste
Qui sait jouer la java
Elle écoute la java
Mais elle ne la danse pas
Elle ne regarde même pas la piste
Et ses yeux amoureux
Suivent le jeu nerveux
Et les doigts secs et longs de l'artiste
Ça lui rentre dans la peau
Par le bas, par le haut
Elle a envie de chanter
C'est physique
Tout son être est tendu
Son souffle est suspendu
C'est une vraie tordue de la musique
La fille de joie est triste
Au coin de la rue là-bas
Son accordéoniste
Il est parti soldat
Quand il reviendra de la guerre
Ils prendront une maison
Elle sera la caissière
Et lui, sera le patron
Que la vie sera belle
Ils seront de vrais pachas
Et tous les soirs pour elle
Il jouera la java
Elle écoute la java
Qu'elle fredonne tout bas
Elle revoit son accordéoniste
Et ses yeux amoureux
Suivent le jeu nerveux
Et les doigts secs et longs de l'artiste
Ça lui rentre dans la peau
Par le bas, par le haut
Elle a envie de pleurer
C'est physique
Tout son être est tendu
Son souffle est suspendu
C'est une vraie tordue de la musique
La fille de joie est seule
Au coin de la rue là-bas
Les filles qui font la gueule
Les hommes n'en veulent pas
Et tant pis si elle crève
Son homme ne reviendra plus
Adieux tous les beaux rêves
Sa vie, elle est foutue
Pourtant ses jambes tristes
L'emmènent au boui-boui
Où y' a un autre artiste
Qui joue toute la nuit
Elle écoute la java
Elle entend la java
Elle a fermé les yeux
Et les doigts secs et nerveux
Ça lui rentre dans la peau
Par le bas, par le haut
Elle a envie de gueuler
C'est physique
Alors pour oublier
Elle s'est mise à danser, à tourner
Au son de la musique
Arrêtez!
Arrêtez la musique!