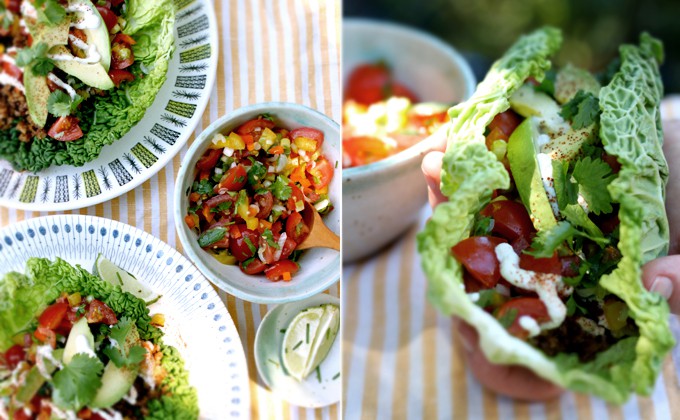 This recipe comes from chef Susan Britton on www.rawfoodrecipes.com.
Ever made raw tacos? No?! Well now is the time and THIS is the recipe to start you out on a raw Mexican food inspired path to heaven! This incredible recipe by Sarah Britton is definitely not short on the ingredients, but the end result is well worth the effort. The flavors of spicy walnut taco mix, fresh tomato salsa and tangy cashew sour cream create an absolute explosion of fresh vibrant flavors in your mouth. And not only that but you will feel refreshed and nourished after your meal. For the taco "shells" try using several varieties of cabbage such as green leaf, purple, or nappa cabbage which all work very well. This recipe puts greasy meat based Mexican food to shame. As long as you are using fresh seasonal produce and those delicious Mexican spices and herbs such as cumin, cilantro, garlic, paprika, and spicy peppers you will get that authentic flavor.
Ingredients
Walnut Taco Mix
1 cup raw walnuts
1 Tbsp. nama shoyu (raw, unpasteurized soy sauce)
1/8 tsp. ground chipotle pepper (or more if you like it spicy!)
1 tsp. ground cumin
1 tsp. extra virgin olive oil
Cashew "Sour Cream"
½ cup raw cashews
juice of ½ lemon
1 tsp. apple cider vinegar
5 Tbsp. water (approx.)
Raw Salsa
1 cup chopped cherry tomatoes
½ red bell pepper, chopped fine
½ orange or yellow bell pepper, chopped fine
½ red onion or 4 green onions, minced
¼ cup chopped cilantro
½ clove garlic, minced
juice of ½ lime
1 tsp. raw honey
1 Tbsp. extra virgin olive oil
pinch of sea salt
Other Raw Taco elements:
ripe avocados (about ½ per person)
cabbage, collard, kale, romaine, or spinach leaves
limes for squeezing
extra cilantro for sprinkling
Instructions
Walnut Taco Mix
1. Put all ingredients in a food processor and pulse just to mix. Don't over-blend, or you will end up with walnut butter!
Cashew "Sour Cream"
1. Put all ingredients except water in a high speed blender or food processor and blend, adding water one tablespoon at a time until the desired consistency is reached. If you want a thick cream, use less water, for a thinner sauce, use more. (You will not achieve a perfectly smooth sauce with a food processor, but it is still delicious!)
Raw Salsa
1. Whisk the garlic, lime juice, honey, olive oil and sea salt in the bottom of a bowl and set aside.
2. Cut up the veggies into rather small pieces, chop the cilantro and add everything to the dressing bowl. Fold to combine and let sit for at least 10 minutes to allow the flavours to meld.