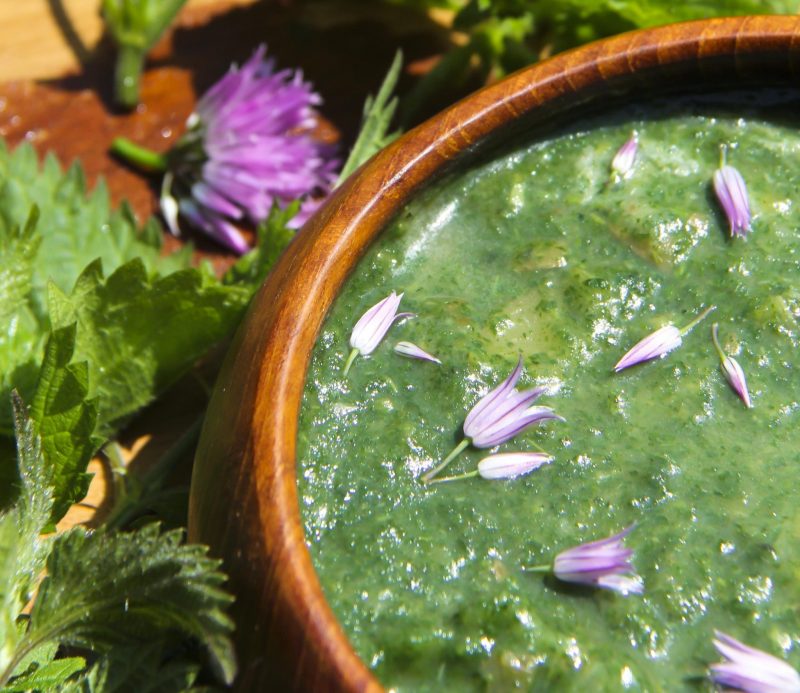 This recipe comes from Trinity Bourne of www.TrinitysKitchen.com.
The best time to pick nettles is before they start developing seeds. The seed produces an irritant that may bother some folk. Spring is normally the best time to gather them, although if you cut them right back after the first seeding, you will get new growth later in the season too. The youngest, freshest leaves, without the stalks, are optimal. Unless you are feeling brave, I recommend gathering stinging nettles with rubber gloves. Drying or soaking in water, sauce or oil will instantly remove the sting, making them edible both raw and cooked.
So, nettle soup! You can toss nettles in to lots of different dishes, although if you want a super infusion of this nutritious gem then you might enjoy my thick, green, 'Very Nettle' soup.
Very Nettle Soup Recipe
Ingredients:
200g fresh nettles
(this is about one large salad serving bowl full)
1 large onion
1 large stalk of celery
1 large potato (approx 300g)
500ml  (about a pint) fresh water
1 teaspoon sea salt
Pinch of black pepper (optional)
75ml coconut cream (optional)
Dash of olive oil (to saute onion)
Chive flowers to garnish (optional)
Chop onion and saute for a couple of minutes using the olive oil in a medium sized pan.
Chop potato and celery roughly in to small chunks.
After a couple of minutes add the water, along with the potatoes, celery, salt and pepper and bring pan back to the boil. Once it is boiling turn down to a simmer and prepare the nettles.
Preparing nettles is a simple art once you know how. Use rubber gloves and place them in a large colander to rinse if necessary. Shake off any excess water and pick the leaves off the stems. Once you have done this (still with gloves on) use a large sharp knife to roughly chop them up. Be really careful at this stage to avoid cutting through your rubber gloves (I've seen this happen so many times, so stay aware).
After about 15 minutes of cooking the contents of the pan, add in the nettles. Stir in if needed and allow to cook for a few more minutes. If you love coconut and have coconut cream available you might like to add some at this stage for a creamier effect (although this is optional).
Blend the soup and then serve along with some delicious spelt bread or home made oatcakes.
Given my passion for recipes my cookbook also has a few other really delicious nettle recipes such as 'Hempy Nettled Potatoes', 'Nettle & Mushroom Stir-fry', 'Trin's Soul Food Special' (nettles in a sweet potato, coconut & shiitake mushroom soup)  and 'Sun-dried Tomato & Nettle Pate'. You can find out more about my book here: Trinity's Conscious Kitchen.