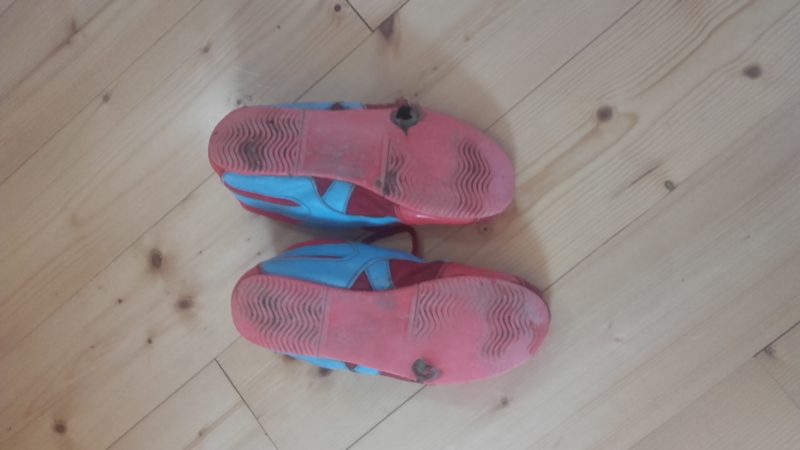 I literally ran my shoes into the ground.  I've run holes into my shoes! JOY!
What would you do if you had all the money and all the time you wanted? Seriously. What would you do? How would you spend your days? Where would you live? What would you be thinking about?
I have felt a little slow since the new year started. And although I have felt slow, I have also been writing more, running more and even yoga-ing more. I feel more present with people and more hopeful and optimistic about everything. I guess it's winter and it's normal to feel a little more withdrawn and slow. I mean, I intentionally chose to come to the countryside and get away from the noise, hustle and bustle of Paris. I did this so that I could write goals, vision my business, realign my health and fitness and decompress after the big cycle that just came to a close.
This morning on my run, I was filled with joy. The weather was crisp and pristine. The skies were bright and vast. It was a beautiful day that came straight from my dreams. It is a strange thing to find yourself out in the middle of a country road running because you want to. I know that I can live anywhere and do whatever I want. I live exactly where I want to live. I do exactly what I want to do. Sometimes my power is overwhelming to me, and it can be daunting to think, well, what should I create now?
That's where I am– at the center of the world. I get to choose what I want to birth. It's powerful, wonderful, magnificent. But sometimes, it feels overwhelming. Like, I totally get why we let other things distract us from creating… because then we'd have to take responsibility for our future. It was easier when I was in debt and broke and focused on how to fix that. Having an open slate and all the resources to do what you want is magnificent and can sometimes feel like an oppressive force. But of course, that's just fear and ego talking.
What are some of your material goals for this year? I really want to know.
In the meantime, I'm wishing you all the awareness in the world… Wishing you a blank canvas and all the watercolors you need to create great works.